Acknowledgement of Country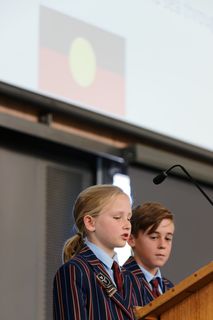 Dominic College uses the following Acknowledgement of Country:
For thousands of years Aboriginal Tasmanians have walked this Land, on their own country as custodians to their Earth Mother. Their unbroken relationship with the Land, waters and sea was and remains to be at the Centre of their lives. These Lands, now called Dominic College, were the lands of the muwinina people who are now lost to us. We acknowledge all Aboriginal Tasmanians, today's palawa and pakana people, those of the past, the present and the future, and, with gratitude and respect, we recognise their continued relationship, custodianship and their bond with Country throughout the ages.